Lawn Care Services for All Seasons
New Lawn Installation and Maintenance Services
Receive exceptional Landscaping services from our staff in Halstead, Kansas. Windy Ridge Lawn Care offers (Turn-Key) jobs with services, such as landscape design services,  Landscaping, as well as Complete Lawn Maintenance. Contact us today at (316) 835-0343 to ask how we can improve your lawn today.

Landscaping
Windy Ridge Lawn Care offers landscape design services to help you decide how to make your new or existing yard beautiful.  Then we install your new landscaping, including sprinkler system installations, retaining walls, patios, belgard pavers, water gardens, planting trees and shrubs, seeding or sodding.
Arbor Services
We offer ArborJet™ tree injection services to help keep your trees healthy. ArborJet™ is a state-of-the-art micro-injection system. This system is designed to inject specially formulated products directly into the tree, using a patented one way Arborplug, that plugs the injection site in the tree, keeping insects out and letting the tree heal over the plug causing little or no wounding.
ArborJet™is perfect for trees with iron deficiencies, insect invasion, and fungus problems. We also have great results using it to provide treatment for Pine Wilt.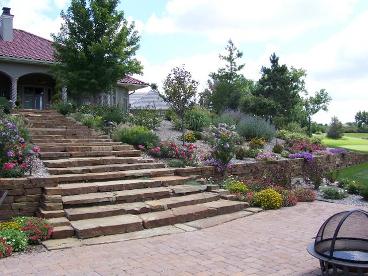 Subscribe to our Newsletter
Lawn Care Services Include
Aerating
Over-Seeding
Total Fertilization &
Weed Control Program
About Windy Ridge Lawn Care
Windy Ridge Lawn Care was started six years ago after the owner had worked for a few years in the excavation business.  This experience is valuable when it comes to grading your yard.  We try to offer services and product that is the highest quality.  The owner makes an effort to work on every job because customer contact is important to him.  Our #1 goal is to have a completely satified customer when the job is done.
E-mail us terrill@windyridgelawn.com or call us in Halstead, Kansas, at (316) 835-0343 for Landscaping or Lawn Care services.
Proudly Serving:
Central & South Central Kansas
Bid Request
Contact is to see how our management programs can benefit your property!